FinTech
Sinds de komst van FinTech startups is de technologische innovatie van de financiële sector in een stroomversnelling gekomen. Verzekeraars, pensioenfondsen en banken hebben innovatie teams en digitale transformatie afdelingen opgezet. Men creëert zelf nieuwe startups en werkt volop samen met FinTech Startups. Het creëren van een digitaal ecosysteem is hierbij essentieel.
Binnen het thema FinTech werkt het DEI aan een aantal belangrijke onderwerpen om een gezond digitaal ecosysteem te creëren. Denk hierbij aan digitale identiteit en de governance, businessmodel, privacy en security.
Werkgroep Self Sovereign Identity
Steeds meer bedrijven zijn de afgelopen jaren getransformeerd naar de digitale wereld. De komst van Covid-19 heeft dit proces alleen nog maar versneld. Het is daarom belangrijk dat de data (attributen) die liggen opgeslagen in verschillende database op een goede manier beheerd worden. Met de werkgroep Self Sovereign Identity gaan we in een ecosysteem van financiële instellingen, onderwijs instellingen en overheid aan de slag met dit onderwerp.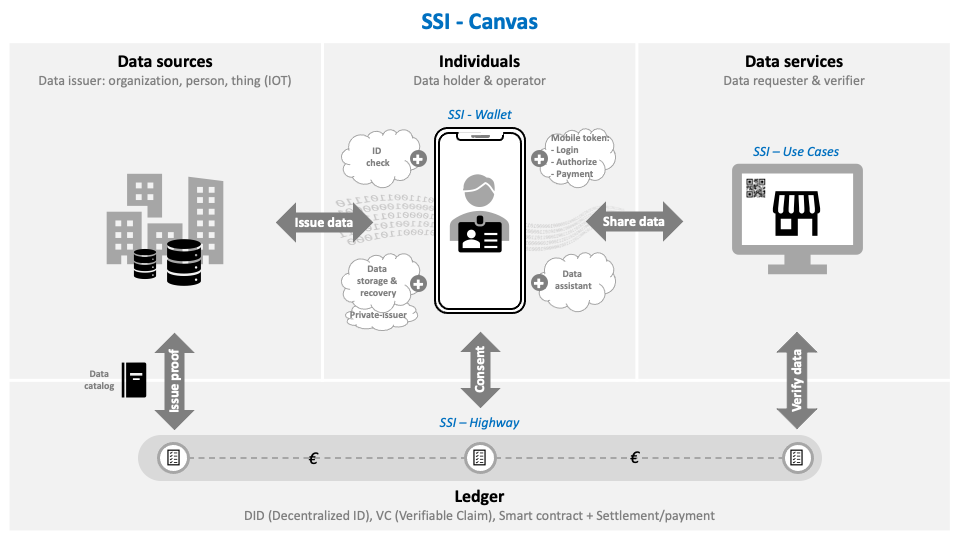 "Mensen beseffen: wacht even, zo kan het ook!" Hoe verbeter je de wereld, dat was in 1995 de driver achter de bemoeienis van Andrew Mooijman met het internet. Hij geloofde in het sociale karakter van internet, maar werd teleurgesteld. The internet is broken, het is...
Self Sovereign Identity (SSI), broodnodige innovatie in wording. Vanuit de digitale ecosysteem gedachte werken aan innovaties. Self Sovereign Identity (SSI) is het concept dat je als gebruiker je eigen digitale identiteit beheert. Peter Eikelboom, Innovatiemanager bij...
We empower the individual with their own digital identity according to the digital human rights. We will organize the technical, political, legal, societal infrastructure to support this in a distributed self sovereign identity framework. We are trained in using ecosystems principles.
We create value for the ecosystem participants, but never at the expense of the individual and never an undue benefit to any of the ecosystems participants (it's not ego but eco). We use the latest experiences and knowledge on the topic of ecosystems.
We have impact on society: government, education, business and above all the individual.
Meer informatie opvragen voor deze werkgroep kan door een mail naar Bart van der Linden: Bart@digitalecosystems.institute